I have to admit that I think I may have a problem. Although in terms of "problems" one might have, this one is probably not that bad…but I am slightly hooked on buying Bibles.
I have this odd personal goal of reading all the major translations through, cover to cover. As much as I love my Bible app on my iPhone, this is a goal that I wish to accomplish with a book in front of me! I love reading from an actual Bible!
So far, I've finished ESV, KJV and now I am on NASB. Next on my list is NKJV and probably NIV last. So far, NASB is my absolute favorite. The translation as well as the Bible itself, which is what I'll be talking about in this post.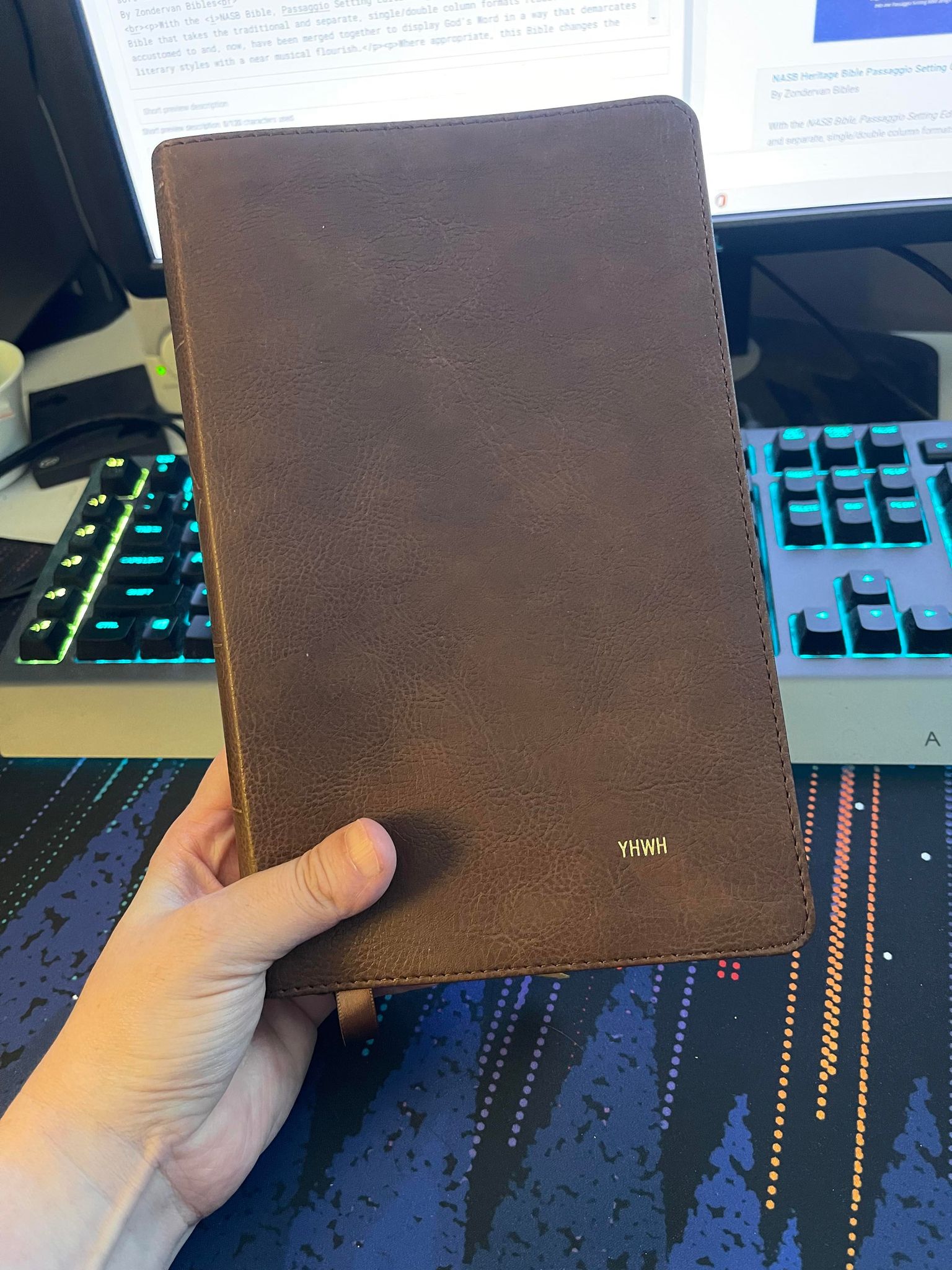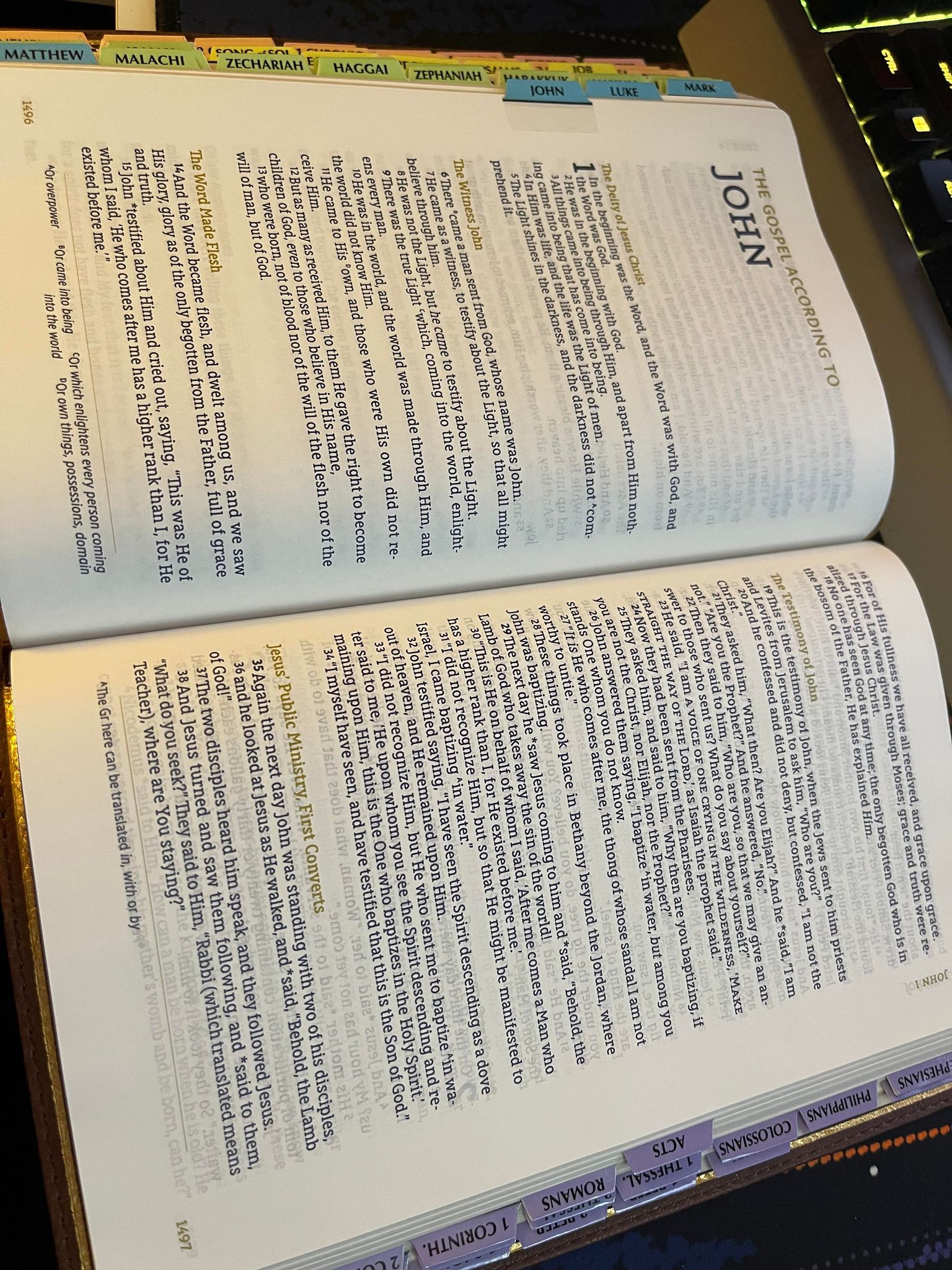 I have to admit, when I first saw that I could get single column Bibles, it didn't appeal to me…until I had one in my hand. The readability aspect is AMAZING.
It's also on 36 GSM paper which in Bible geek terminology, stands for grams per square meter, which will determine how thick the Bible is. Some people are attracted to the "thinline" style of a Bible, and rightfully so – they are super light and attractive. However, if you're a note taker or a person who highlights, the GSM quality matters because the colour will bleed through, otherwise known as "ghosting". Anything 36 GSM or above is the best for writing or highlighting.
I had mine personally engraved, as you can see above. It cost a little extra do that but I really liked the idea of having that on there. It's an entirely personal choice to do that.
More detailed information on this Bible is listed below.
Fair warning, clicking on those links will take you to Christian Book website where I am an affiliate and have been for awhile. So, if you did decide to check this Bible out, or any other product using that link, I will earn a small commission from your purchase. There is no requirement to do that since the point of this post was really to share how much I LOVE my new Bible! But if you DID decide to do that, I'll thank you for your support in advance!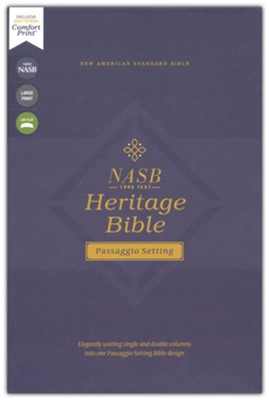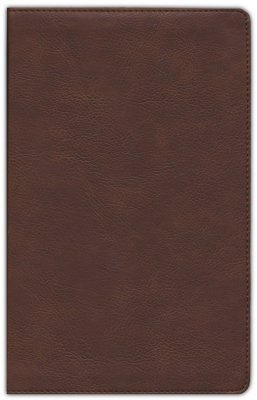 NASB Heritage Bible Passaggio Setting Comfort Print–soft leather-look, brown
By Zondervan Bibles

With the NASB Bible, Passaggio Setting Edition, you'll receive and experience a Bible that takes the traditional and separate, single/double column formats readers have been accustomed to and, now, have been merged together to display God's Word in a way that demarcates literary styles with a near musical flourish.Where appropriate, this Bible changes the format from single column to double column, marking the change in the literary style from prose to poetry. This provides you with a visual cue in your experience, a mental and spiritual rest, that enables you to subtly prepare for the change that has occurred in the passage. This type of change within music – called passaggio – allows you to not merely listen to music, but experience it and heighten your emotional reception of the piece. This musical structure has been intelligently implemented into Scripture, with the goal of deepening your involvement in the movement of the biblical stories as they unfold. Features:The full text of the New American Standard Bible, 1995 TextPassaggio Setting skillfully unites single and double columns into one clear, beautiful arrangementTwo-color page design crafted by 2K/DENMARKPresentation pageEight pages of full-color mapsVerse-by-verse formatLine-matched Bible text minimizes see-throughBlack-letter editionPremium European Bible paper, 36 GSMTwo satin ribbon markersExclusive Zondervan NASB Comfort Print typeface10-point print size